Launch Healthcare Enablers 2020
27 november, 2020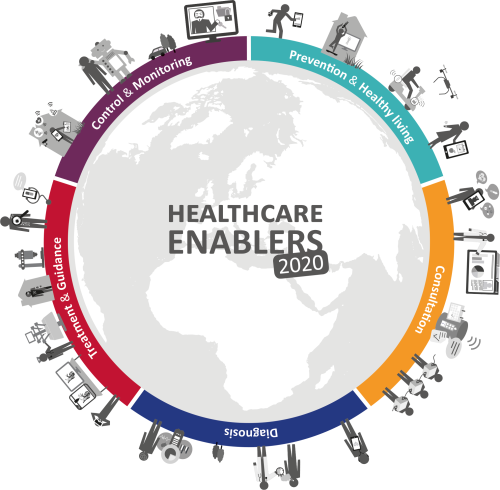 To keep healthcare affordable and staffable, the use of smart, scalable technology is necessary. The interest in digital solutions is growing rapidly amongst care professionals, patients, and care organizations. The question is which technology will change the healthcare of today and tomorrow. The supply of new technology is overwhelming, the possibilities are endless, after all. For instance, there are over 327,000 health apps available. But what truly contributes to the quality, accessibility, and affordability of healthcare? How do we weigh improved quality against the investment and care costs of new technology? We see that healthcare organizations often attempt to reinvent the wheel themselves. When we could also learn quickly and intelligently from successful examples and (brilliant) failures. By cooperating and scaling up successful examples, we can truly accelerate healthcare innovation.
With the publication of the (e)book "Healthcare Enablers 2020" BeBright aims to increase the knowledge about technological developments in order to reinforce the innovative power. The possibilities are endless. That's why, since 2017 BeBright, annually makes a structured and independent overview of technologies that, in their eyes, (can) have a large added value. In addition to an update of current and new technological developments and innovations in the field of care and welfare, BeBirght also zooms in on the implementation of these innovations. The real challenge lies in adaptation, implementation, and upscaling. In this book there are several trajectories presented up until their implementation, and several healthcare innovation experts present their vision on the role of technology in the future of healthcare. For the 2020 edition of the book BeBright partnered with NeLL. Niels Chavannes, founder of NeLL is the co-author alongside Sjoerd Emonts & Philip J. Idenburg.
Allow Healthcare Enablers 2020 to inspire you to get started with new technology. The complexity of our healthcare system, and with that of care innovation, is sometimes so great that many innovators are at risk of getting stuck. We hope that these examples of successful care innovation in this publication will provide the confidence to persevere. To inspire, but also to enable us together to pick the low-hanging fruit of new technologies and to work towards a sustainable healthcare system where quality and efficiency go hand in hand.
You download he publication as an eBook here.